Our Team
Keshav Merchant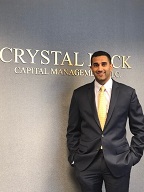 Keshav joined Crystal Rock Capital Management in July 2019. His Investment role includes analytic responsibilities for the technology and media sectors.

Prior to joining Crystal Rock, Keshav obtained his MBA from The University of Chicago Booth School of Business with concentrations in finance, entrepreneurship, and accounting. While pursuing his MBA, Keshav interned as an investment analyst at CVA Investment Management, a long/short value fund.

Keshav also holds a B.S. in finance from Indiana University and has passed the first two levels of the Chartered Financial Analyst program.