Our Team
Daniel Angel
Investment Analyst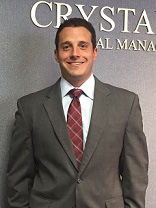 Dan joined Crystal Rock Capital Management in May 2016. His Investment role includes analytic responsibilities for several sectors including industrial, transportation and business services.
Prior to joining Crystal Rock, Dan was a senior research analyst at Convergent Wealth Advisors in Washington, DC and was a member of their investment research team. While at Convergent, Dan was responsible for research coverage of multiple hedge funds, mutual funds, as well as the firm's opportunistic allocation. While pursuing his MBA, Dan interned as an investment analyst for GrizzlyRock Capital, a long/short value and event-driven fund. Dan began his career at Bear Stearns and JPMorgan Chase & Co.
Dan holds an M.B.A. from the University of Chicago Booth School of Business and a B.S. from Syracuse University. Dan holds the Chartered Financial Analyst designation.